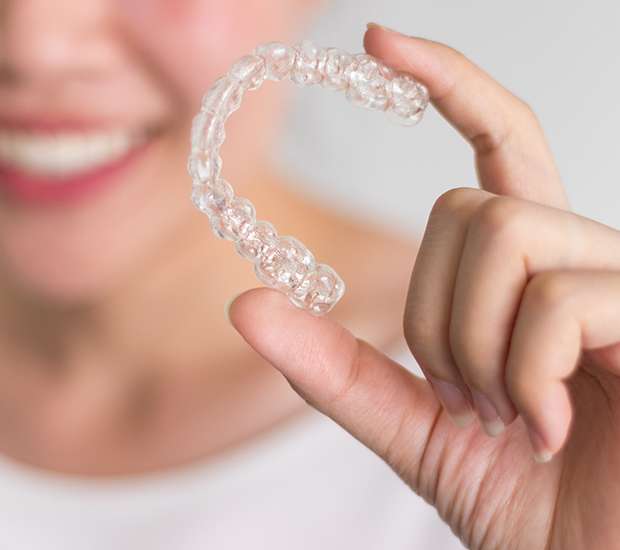 Invisalign Orthodontist
Laurinburg, NC
Invisalign®
Dr. Henry is an Invisalign® Orthodontist, treating patients throughout the local area. Invisalign® is an excellent way to straighten your teeth, preferred over traditional metal braces by adults of all ages. If you want to improve the appearance of your smile, call (910) 566-0231 to schedule a consultation and see if Invisalign® is right for you or your loved ones.
The Clear and Discreet Alternative to Braces
Teenagers and adults choose Invisalign® because it straightens teeth without anyone noticing that they are correcting their smile. People living in the Laurinburg NC area, trust Dr. Henry to help them achieve their smile goals in a way that is comfortable and convenient.
How does Invisalign® work?
As an Invisalign® Orthodontist, Dr. Henry straightens teeth using a series of aligners. First, we make an impression of the patient's teeth and create a series of aligners in a dental lab. The aligners are made out of a thermoplastic material that is both strong and flexible, to help the patient feel comfortable while wearing the aligners for long periods of time. The material is nearly invisible.
The aligners should be worn for 22 hours a day and switched out with the next one in the series every two weeks. Over a period of several months, the aligners will slowly move the teeth into place and make one minor adjustment at a time. Each of these adjustments is targeted to specific teeth. Thanks to the speed of the process, a patient's teeth will remain comfortable as they are moved into position. Once the patient is done wearing the aligners, he or she will have straight teeth.
Benefits of Invisalign®

Patients throughout North Carolina prefer wearing Invisalign® because of how convenient it is, compared with wearing traditional braces.
The aligners are clear, so no one would be able to notice you are straightening your teeth.
Even though a patient needs to wear the aligners for 22 hours a day, you can take them out to eat dinner, go on a date or make an important presentation at work.
You can brush and floss your teeth like normal, and no additional tools are required.
There is less of a risk that your teeth will become stained as compared with wearing metal braces that can be difficult to clean.
The procedure is more comfortable than metal braces since the aligners move teeth into place slowly and only focus on a few teeth at a time.
Aligners are easy to take care of, and you only use the same aligner for a couple of weeks.
How do I care for my aligners?
Dr. Henry recommends that patients remove their aligner and rinse it with warm water on a daily basis. You may also want to brush them with a soft toothbrush.
Attachments
Some patients may need to wear attachments or ridges in order to ensure that their teeth move into place. An attachment is a clear bump, made out of an enamel-colored composite that is secured to the teeth. There are bumps on the aligner, which grips the aligner and holds it in place. Ridges work in a similar way, except that an indent is created instead of a raised bump. This can be necessary for more complicated cases to ensure that a particular tooth, or several teeth, move into the proper place as they should.
Laurinburg, North Carolina Invisalign Orthodontist
Checkups
Patients of Henry Orthodontics will need to see Dr. Henry for checkups to ensure that their teeth are moving like they are supposed to. Fortunately, since the aligners are made at the beginning of the procedure, these appointments are less frequent than if you were wearing metal braces. With traditional braces, a metal bracket is placed on each tooth. A wire is threaded between each bracket and held in place with rubber bands. We will need to adjust the wire on a regular basis in order to keep the teeth moving in the right direction. For each adjustment procedure, the patient will have to make frequent office visits. This can be inconvenient for people with busy schedules and a hectic life. However, any delay in appointment scheduling can prolong the timeframe that the braces need to be worn. As an Invisalign® Orthodontist, Dr. Henry sees patients less frequently because the checkups are not to adjust anything, just to make sure that the procedure is working. This is far more convenient for patients throughout the local area.
What You Need to Know
Treatment Time
For most patients living in the Laurinburg NC area, the procedure takes around twelve months. The exact timeframe will depend on your situation; only Dr. Henry can tell you how long Invisalign® will need to be worn. Overall, the treatment time can be less than with metal braces. This is in part because you do not have to schedule appointments to keep your teeth moving. Simply put on a new aligner.
Finding an Invisalign® Orthodontist
Not all orthodontists offer Invisalign®. An orthodontist has to receive special training in order to provide Invisalign® to patients. With that in mind, Dr. Henry has completed the necessary Invisalign® orthodontics training and will ensure you are given excellent treatment at his office in North Carolina. To learn if the procedure is right for you, schedule an appointment with our Henry Orthodontics office by calling 910-566-0231.
How will Invisalign® impact my life?
Unlike wearing traditional braces, Invisalign® will not make a major impact on your quality of life. Since the aligners are clear, it will not drastically change your appearance. Additionally, since they only need to be worn for 22 hours a day, they will not interfere with eating. This is a huge advantage because you can eat your favorite plate of ribs, go out for a romantic date or eat a caramel apple without worrying about a wire being pulled out of place. This time also allows you to take the aligner out when having an important conversation or making a presentation at work. It is important to note that you need to brush your teeth and clean out any food in your mouth before you place your aligners back in. Overall, this is a convenient way to straighten your teeth and provides the maximum level of flexibility.
Some people are concerned about whether or not wearing an aligner will impact their speech. Most of our Laurinburg patients tell us that they have to get used to wearing aligners after the first couple of days. Patients may have a slight lisp that goes away once they adjust to speaking while wearing the aligners. This is standard with any orthodontic procedure. Fortunately, most people can speak normally within a couple of days.
Customized for Your Teeth
If you are interested in the clear alternative to braces for a discreet teeth-straightening experience, the Invisalign® aligners are the treatment for your needs. It is no surprise that people are hesitant to seek orthodontic treatment due to the fear of embarrassment over various devices being on the teeth. Fortunately, we offer Invisalign as an almost unnoticeable teeth straightening treatment.
Invisalign offers patients the effective treatment they need to straighten their teeth while also giving them a new versatility that other orthodontic treatments do not. People can now straighten their teeth without feeling a need to cover them when laughing, talking or smiling for a photo.
At Henry Orthodontics, we offer Invisalign in Laurinburg, NC to help patients achieve the smile they desire with a professionally discreet process.
Invisalign is an effective teeth straightening method that involves a series of clear aligner trays over the span of one to two years. The amount of time can vary per patient, their teeth and how well they follow the treatment plan. This customized plan is built to meet the needs of each patient through a mold of their teeth that we combine with digital scanning technology.
Through this, our orthodontists can map out the process of the teeth gradually shifting into the correct position. Once we set up the plan, the machine will create a series of aligner trays the patient will change out once every two weeks or so. While Invisalign is a typical treatment for adults, teenagers can also use Invisalign. However, this treatment is not recommended for children. The benefits of this treatment include:
Customized treatment with easy-to-follow instructions
Removable aligner trays that are easy to clean
Being able to remove the trays to eat, take photos, give presentations, etc.
No restrictions on a patient's diet
No need to brush around wires or brackets
Typically only needing to wear them for 12 to 18 months
Clear and discreet appearance on the teeth
Fewer checkup appointments needed
FAQ
Since Invisalign is a newer technology that continues to revolutionize the teeth straightening process, we understand that people may have a few questions about the product and treatment process. Here are a few common questions and our answers to them.
How long do I have to Wear the Invisalign aligners For?
The patient needs to wear the Invisalign aligners for at least 22 hours each day. Wearing them for less on a regular basis will extend the process and lengthen the amount of time the treatment will take. The patient can remove the aligners for photos, presentations, sports games or practices, meals, dates and more.
It is important to remember to not leave them out for too long and return them to the mouth as soon as possible.
How Long will the Entire Treatment Take?
The Invisalign treatment typically takes around 12 to 18 months. However, this amount of time can change depending on the patient's teeth, oral health and how closely they follow the treatment plan. People may need to wear a retainer after the treatment, but that is not always the case.
Will it be Painful?
While there may be some mild soreness when using a new set of aligner trays, the pain will pass over time. In many cases, the soreness will be barely noticeable.
What do I do to Clean my Invisalign Aligners?
Cleaning Invisalign aligners is not as difficult as other orthodontic treatment options. With Invisalign in Laurinburg, NC, patients will only need to clean the aligner trays at least once a day with a soft-bristled toothbrush. So long as people rinse the aligners and brush their teeth after each meal, there is little chance of the aligners being dirty.
Is it alright for me to skip a set of Aligner trays in the Series?
No. If a patient misses a set of trays in the series or does not wear one for a few days, they need to call us for how to proceed. It is not necessarily wise to skip over a set since it will cause more pain for the teeth to adjust.
How soon will I begin to Notice changes in my Teeth?
While the complete change will not be as noticeable until after the treatment. People will begin to see changes in as little as the first few weeks of treatment.
Can teenagers use Invisalign?
Yes, in some cases. In order to determine if a patient is a candidate for Invisalign or a different orthodontic treatment, call us and schedule a consultation appointment.
How do I get started with Invisalign®?
Call (910) 566-0231 and schedule a consultation with Dr. Henry.
Back to top of Invisalign Orthodontist
Recent Posts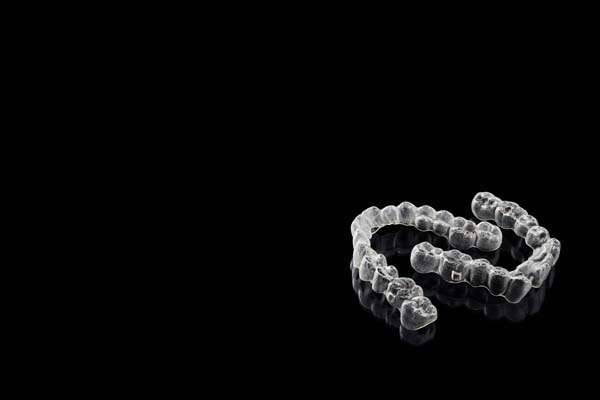 Getting invisible braces is becoming more popular lately. Many dental patients are choosing them over traditional metal braces. You may already be considering this orthodontic treatment. It is important to know everything that you can before you commit to this treatment. If you want to talk to your dentist about invisible braces, here are four…
Explore additional topics covered on our website: